A clinical-stage pharmaceutical company, Incannex Healthcare Limited (ASX: IHL) (Nasdaq: IXHL) has executed a term sheet with binding commercial terms to wholly acquire APIRx Pharmaceutical USA, LLC ('APIRx'). The proposed acquisition price is US$93.3 million, in an all-scrip transaction.
Incannex is involved in the development of medicinal cannabis products for treatment of different types of diseases. For each drug and therapy under development, the company pursues approval from the United States Food and Drug Administration (US FDA).
The completion of the acquisition will strengthen Incannex's position as a global leader in the field of cannabinoid, psychedelic, and combination pharmaceuticals.
Related read: Incannex (ASX: IHL) debuts on Nasdaq as IXHL, shares fall
APIRx – A Pioneer in Pharmaceutical Medicinal Cannabinoid Product Development
APIRx is a cutting-edge biotechnology company specialising in the research, development, and manufacture of prescription pharmaceutical cannabinoid medicines. It is involved in 22 active clinical and preclinical research and development projects that use proprietary technologies. The acquisition gives Incannex a diverse portfolio of promising therapeutic candidates to treat a wide range of conditions, including pain, dementia, Parkinson's disease, restless leg syndrome, gastrointestinal diseases, periodontitis, addiction disorders, skin conditions, and ophthalmic conditions. The company's therapeutic candidates are underpinned by an extensive intellectual property portfolio that includes 19 granted patents and 23 pending patents.
What does the acquisition bring to the table for Incannex?
The acquisition of APIRx will remarkably bolster Incannex's position as a market leader in cannabinoid and psychedelic treatment development
IHL will get a massive portfolio of intellectual property (including a bunch of granted as well as pending patents)
It will multiply Incannex's addressable global market size by more than US$400 billion per year
Incannex will get to add the industry's top-class scientists to its team. This will further improve the Company's technical and drug development capability.
APIRx's patented delivery technologies will increase the Company's drug delivery capability.
APIRx will be entitled to nominate one board member to Incannex after completing the proposed transaction.
Incannex to employ two members from APIRx Management
Image source: © Artistashmita | Megapixl.com
Incannex will hire Dr George Anastassov and Mr Lekhram Changoer on a full-time basis following the completion of the acquisition. Both are experienced clinical researchers with medical and scientific backgrounds. They will continue to drive the development of APIRx projects whilst also assisting with the development of the Company's existing projects.
Details about the transaction
Incannex expects to spend nearly AU$5.0 million on the APIRx product suite in the first year. However, the budget may be re-assessed to about AU$10 million following the conclusion of the Loyalty Option Offer in April, which could be raised up to ~AU$28 million in development capital for the Company.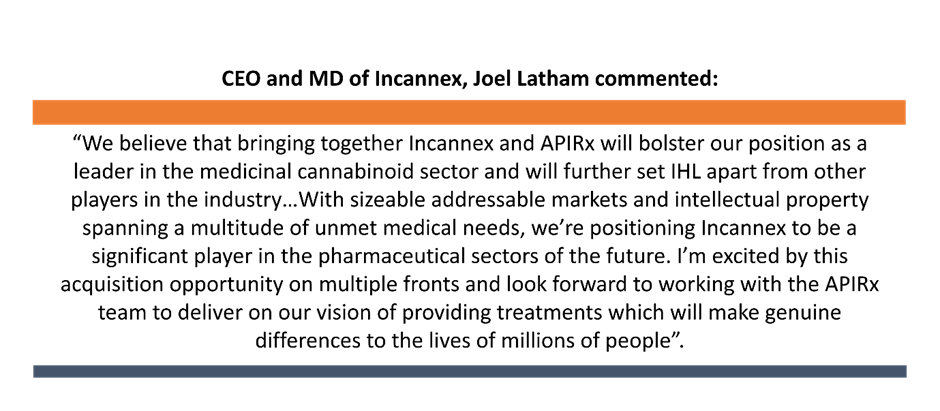 Stock information: Shares of IHL were trading at AU$0.665, as of 24 Mar 2:39 PM AEDT.
Also read: Incannex Healthcare (ASX: IHL) unveils positive clinical trial data for OSA treatment
Cannabis stocks with high returns CAU, LGP, LV1, MXC