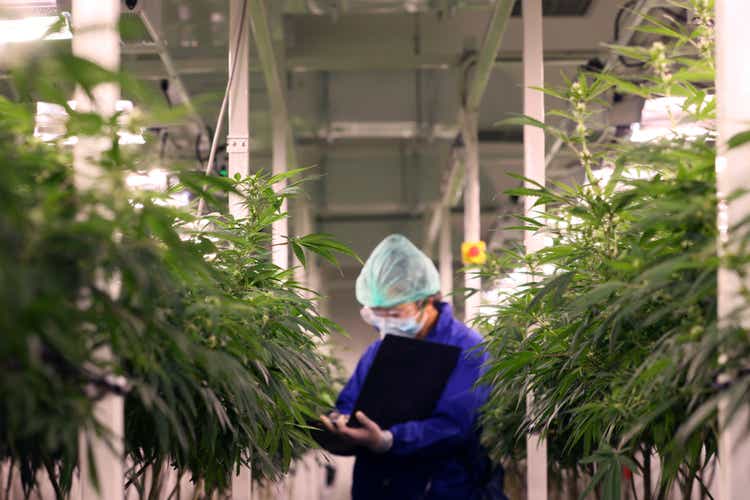 Investment Thesis
We still don't know how Washington will regulate the cannabis industry in the coming years. This may keep investors away from cannabis stocks.
This is not the case with Innovative Industrial Properties (IIPR). Leasing grow houses & inserting itself in the expense column of the cannabis industry has led the REIT to 72% institutional ownership. Companies outside the expense column have much less institutional ownership. For example, Canopy Growth Corp (CGC) has 17%, & Trulieve Cannabis Corp (OTCQX:TCNNF) has only 5% despite its phenomenal growth & recent profitability. OrganiGram Holdings (OGI) has 16% & Curaleaf Holdings (OTCPK:CURLF) has only 1.5%.
The lack of institutional ownership is for good reason. Some of the cannabis companies are bleeding cash. Canopy is down 89% from its ATH & lost almost $1.4B in fiscal year 2021. Curaleaf lost $102M for fiscal year 2021 & OrganiGram lost $103M. Trulieve, however, is profitable with strong growth & solid margins. Although Trulieve is profitable, risks still remain. The regulations of the cannabis industry are numerous & tedious.
For example, cannabis interstate commerce is federally illegal as of this writing. This means crops grown in one state must be redistributed in the same state. Whereas your favorite beer such as Budweiser (BUD) can be brewed & shipped anywhere in the country. What will happen when cannabis can be mass produced at one location? Will redistribution stores such as Trulieve become irrelevant? Will cannabis be in the same aisle as Budweiser in your local supermarket?
The answers to these questions can fundamentally change the entire cannabis industry. This is why a cannabis investment is safest from a B2B standpoint. Like the aforementioned REIT, urban-gro (NASDAQ:UGRO) is in the cannabis B2B space. This means that the cannabis industry does not have to be profitable for urban-gro to grow its bottom line.
urban-gro services the cannabis industry by providing plumbing, engineering, architecture, electrical, & botany solutions. Like Innovative Industrial Properties, urban-gro is one of the safer cannabis investments. The company's small cap size, high revenue growth, business model, & secular tailwinds give this CaaS pioneer significant upside potential.
The Company- CaaS
urban-gro offers turnkey solutions for controlled environment cultivation facilities, also known as grow houses. The company has serviced over 450 facilities. It sells equipment for air sanitation, commercial sprayers, plumbing equipment, fertilizers, & filters & parts for growing cannabis. The markup on these items are not significant & gross margins hover in the high teens – low twenties.
I see the true long term value of the company in the turnkey & service aspects. The company offers a wide variety of services under its gro-care cannabis management. Service gross margins are north of 40%. To start, they offer services related to their equipment. The company employs a team of architects & engineers who can service HVAC systems, plumbing, electric, & vertical farming needs of customers.
The company also offers diagnostics & solutions in their turnkey approach. For example, the company can analyze the grow house for parasites & offer a prescription pest control solution. This can be in the form of pesticides or (my favorite) beneficial insect controls. In short, "good" bugs are deliberately inserted into the environment to eliminate the "bad" bugs in an organic & environmentally friendly way.
Other diagnostics include remote monitoring temperature, humidity, & equipment malfunction. Keeping a close eye on all these botanic variables allow greater consistency to plant climate & cultivation for their customers. The company also offers training to its customer's employees on how to operate these complex aspects of their business should it be needed.
Financials
urban-gro's Q3 2021 quarter saw record revenue growth of $18.3M for the quarter. The previous 5 consecutive quarters averaged 120% YOY revenue growth. This has led to a break even figure for operating income & net income. The company recorded backlog revenue at $30M, up 33% from $22.5M in Q3 2021. As of this writing, the company has $40M in cash with no debt & $19M in total liabilities.
How Far Can urban-gro Go?
To predict an accurate trend, we first have to look at the trends of the cannabis industry & how urban-gro can fit into those trends. Sales of cannabis in the U.S. are projected to hit $38B by 2028. Due to the nature of its business, urban-gro's business is only as good as the indoor cannabis market size.
Although outdoor cannabis has gained popularity in the last few years, indoor grown cannabis offers consistency, predictability & a year round crop harvest. When asked about indoor vs outdoor growing, OrganiGram VP Matt Rogers favored indoor growing. "We're growing the athletes that are going to the Olympics, so to speak." Outdoor cannabis growth is obviously much more affordable with much less startup & maintenance cost.
Secondly, we have to look at the company's plans for expansion. Aside from the 450 facilities served in North America, urban-gro is expanding into Europe, particularly in Netherlands, Macedonia and the UK. The company plans to grow internationally with a combination of hiring & acquisitions.
Risks
Risks cannot be overstated for any cannabis investment. The first obvious risk is any new regulation that can arise out of Washington. Secondly, one must consider the business itself. There are many cannabis companies some of whom grow their own crop. Should urban-gro not serve their customers well enough to deliver a similar or superior product, the business model implodes. I do not see outdoor cannabis cultivation as a major risk. I believe any cannabis company would grow indoors if possible & outdoor cultivation is the second preference. There will always be a market for a controlled cultivation environment.
Conclusion
I see huge upside potential with urban-gro. The cannabis industry is very young & unpredictable. Investing in a CaaS business can shield investors from volatility in the profits or losses of the cannabis industry. Innovative Industrial Properties offered stability, regardless of whether or not tenants produced a profit or not. I see a similar position in the industry with urban-gro.
With an emphasis on cross selling & turnkey solutions, urban-gro is building long term relationships in an explosive industry. The fact that insider ownership sits at 33% after the company's IPO lockout period makes me optimistic. As of this writing, urban-gro sits at a $96M market cap. I love a small cap in the right business at the right time, especially if that small cap is in a potentially addictive industry. As the company grows & acquires customers, profits will increase with higher margin service revenues.
Source link