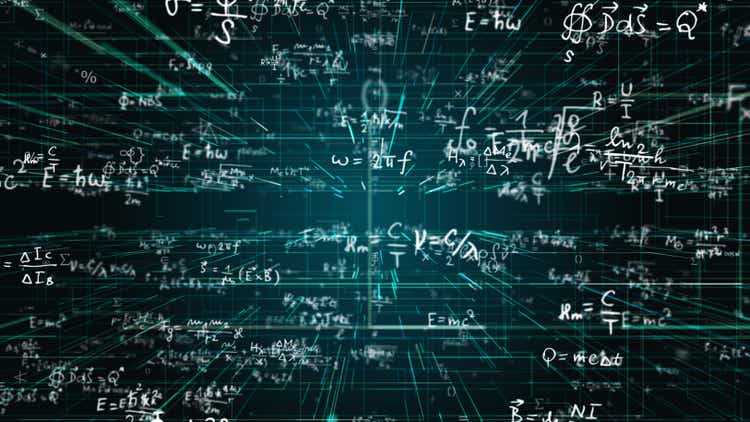 Evogene Ltd. (Nasdaq: EVGN), is an Israel-based computational biology company that acts as a technology hub to develop both internal life science divisions and 5 subsidiaries, including 4 subsidiaries that I believe have significant value.
I was first introduced to Evogene in the summer of 2020 through its Chairman Martin Gerstel. I then had the opportunity to speak to Evogene's CEO Ofer Haviv, as well as the CEOs of each of the company's 4 main subsidiaries.
At that time, Evogene was trading at just over $1.00 per share and had a market cap of approximately $25 million with $40 million in cash. It was a complex story with many moving parts but after a significant amount of due diligence, I concluded that Evogene was a valuable company that the market had not discovered which I believed was worth far more than its market cap. The company also had no analyst coverage at that time.
I bought shares in Evogene and wrote an in-depth 4 part series on the company. My initial investment thesis was that Evogene was an undiscovered and grossly undervalued computational predictive biology company that had 4 very valuable subsidiaries that the market did not understand or appreciate, and I believed was worth a multiple of its share price.
My initial 4 part series consisted of the following:
After publishing the first two of my four-part series (and unrelated to my writing), on September 1, 2020 Evogene announced that ARK Investment Management, LLC had entered into a definitive agreement to purchase $7 million worth of shares in Evogene at $1.70 per share out of a $10,000,000 private placement. At the time, the news of ARK's investment was considered a very positive event. Evogene's share price responded very positively to this news and started to take off.
In fact, as seen from the 3-year Evogene share price chart above, Evogene's share price rose dramatically from approximately $1.00 per share in July 2020 to over $10.00 in February, 2021. It has since fallen back to the $1.20 range.
In my view, the reason for that initial dramatic increase was due to a number of factors, including and likely not limited to:
my initial 4-part series on Evogene published in August and September 2020 which introduced many investors to the Evogene story;
ARK Invest's publicized $7 million investment in Evogene at $1.70 per share announced on September 1, 2020;
initiation of analyst coverage (now 3 analysts cover Evogene); and
the entire biotech sector, represented by the SPDR S&P Biotech ETF (XBI), saw a near doubling in value, and share price, from the summer of 2020, and ending in February 2021.
Since its peak a year ago in February 2021, both the XBI and EVGN have respectively seen a drop in their share price of approximately 50% and 85% to date. An additional factor in Evogene's significant share price drop over the past few months is that the ARK Genomic Revolution ETF (ARKG) has been selling off its position in Evogene. I believe that selling is nearly complete.
See the XBI S&P Biotech ETF 3-year chart below.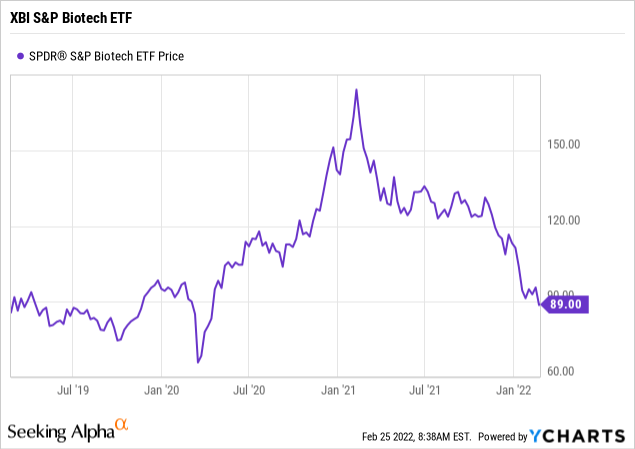 My last article on Evogene published on March 17, 2021 focused on its 90% owned subsidiary Biomica in which I discussed the positive pre-clinical news on its microbiome therapeutic candidate BMC128 which is now advancing into in-human clinical trials in oncology in the next few months.
Evogene's share price was $5.27 at the time I published my March 17, 2021 article, Evogene's Subsidiary Biomica: Impressive Pre-Clinical Data For Its Microbiome Therapeutic BMC128.
Today Evogene's share price is in the $1.25 range. It has a market cap of approximately $50 million which is below the amount of its cash or equivalents of approximately $60 million as of September 30, 2021.
I believe that Evogene is today once again grossly undervalued and that for patient risk-tolerant investors, it could generate a very substantial return on investment based upon its current depressed share price. Evogene's 52-week share price has ranged from a high of over $10 to a low of $1.01.
This article will focus on Evogene's wholly-owned subsidiary Canonic Ltd. focused on the development of medical-grade cannabis products. I plan on writing separate articles on Evogene's other major subsidiaries, namely Biomica, Lavie Bio and AgPlenus during the next month.
Combining advanced breeding approaches with unrivaled artificial intelligence (AI) and big data, Canonic maps and decodes the Cannabis genome, identifying unique genetic markers that enhance desired traits or specific active compounds.", Canonic's website
Since my initial September 23, 2020 article on Canonic Ltd., Evogene: Hidden Gems of Computational Predictive Biology: (Part 4 of 4), Canonic Ltd. (Medical Cannabis), Canonic has made significant progress.
Canonic's Management Team, Board and Advisors (in slides below)
Canonic Update
In mid-January, I wrote to Evogene's CEO Ofer Haviv and its Investor Relations & Public Relations Manager Rivka Neufeld and asked to interview Evogene's CEO as well as the CEOs or senior management of the 4 main subsidiaries, in order to write another series of articles on Evogene and its subsidiaries.
Evogene granted my request and through Rivka Neufeld scheduled some Zoom calls for me, including two Zoom calls with Canonic's CEO Arnon Heyman, Ph.D. on January 19 and 24 to discuss Canonic's progress and the medical cannabis space generally. In addition, I have continued to correspond with Dr. Heyman by email who has been kind enough to answer my various follow-up questions.
Founded in the spring of 2019, Canonic Ltd. utilizes Evogene's CPB platform (including Evogene's GeneRator AI engine) to develop next-generation non-GMO medical cannabis products which were specifically based on cannabis varieties that were selected and developed to express high levels of THC, premium consumer traits and specific medical indications.
Canonic has recently commercially launched its first two MetaYield medical cannabis products, G150 and G200, in Israel. According to the company, the launch appears to be getting very positive consumer feedback.
According to a March 2, 2021 review article published in Frontiers in Plant Science on medical cannabis plants, it can take 7 or 12 years to develop new cannabis plant varieties through conventional breeding. This underscores the speed that Canonic has been able to achieve in developing its novel MetaYield varieties and Precise cannabis plant varieties.
In response to a question about how Canonic was able to develop G150 and G200 and bring them to market in less than 2 years, Dr. Heyman provided me with a written response,
Canonic's two first products were launched in less than 2 years from the initiation of its plant breeding activities. We have accomplished this milestone by generating a broad genetic collection and applying advanced breeding capabilities, including collection of big data and integrating it in our proprietary database. This allowed us to select the most promising genetic lines for further breeding efforts and commercialization. One key capability that allowed us to speed time to market and improve the success rate is the utilization of genetic markers for traits of interest. Evogene's CPB platform allows us to develop proprietary markers, and screen huge genetic populations at the nursery stage in order to focus on selected plants that possess the desired genetic profile for the target traits. The data we have collected was used for applications of both plant breeder rights and a patent for few varieties during 2021, and additional applications are expected to follow."
Israeli Medical Cannabis Market:
According to a February 2, 2022 article published by Ilan Ben Zion of Associated Press in U.S. News, Israel has over 100,000 licensed medical cannabis patients with an estimated market of approximately $260 million per year and growing. Based upon one market study produced by Canonic, the number of medical cannabis patients in the Israeli market is expected to more than double by 2025. Statistics (found here in Hebrew) released from the Israel Health Ministry (at slide #2) reflect the rapid growth in Israeli licensed medical cannabis users over the past number of years.
60% of the medical cannabis market in Israel is prescribed for the treatment of pain, mostly in chronic pain. The second-largest medical indication is inflammation.
Despite its relatively small population, Israel has the third-largest medical cannabis market in the world and has been at the forefront of medical cannabis innovation for some years. For those interested in learning more about Israel's history in medical cannabis, I suggest watching an 18-minute 2018 film documentary, "Cannabis Now, A Journey to the Holy Land" which looks at Israel as a pioneer in the medical cannabis space. The documentary can be found here.
Cannabis Reform Laws in Israel:
As discussed in the February 2, 2022 article referenced above, Israel's medical cannabis boom is in part due to a 2019 law reform making it much easier for Israeli doctors "to prescribe cannabis to people suffering from chronic pain, cancer, PTSD, epilepsy and other conditions."
The article further discusses the efforts of many Israeli politicians to completely legalize cannabis in the country (although simple possession of cannabis, unless for medical reasons, has effectively been decriminalized). If and when cannabis becomes totally legal in Israel, including recreational use, that would be a major catalyst for Canonic, although it appears unlikely to happen in the near term. I am not making any assumption that cannabis will be legalized for recreational use only in Israel.
February 16, 2022: Canonic Announces Professor Itamar Grotto Joining Canonic's Board:
On February 16th, Canonic announced the appointment to its board of directors of Professor Grotto, former Associate Director General at the Israeli Ministry of Health, and responsible for the medicalization reform of Cannabis in Israel. He also oversaw the Israeli Medical Cannabis Agency and was the Director of Israel's Public Health Services and Israel's representative on the Executive Board of the World Health Organization. Professor Grotto could be a very helpful addition to Canonic's team.
Medical Cannabis Sold Under License in Israeli Pharmacies:
Medical cannabis in Israel is sold through 180 pharmacies licensed from the Israeli Medical Cannabis Unit. According to market research provided by Canonic, 80% of Israeli medical cannabis consumers prefer medical cannabis in inflorescence form (i.e., complete flower head of a plant including stems, stalks etc.), and 70% of Israeli consumers look for medical cannabis with high THC levels.
Cannabis Consumer Preferences:
The taste, smell and feel of the medical cannabis plant is also an important factor in guiding consumer preference in medical cannabis both in Israel and for Europeans.
Canonic, a World Leader in Cannabis Genomics
Canonic identifies itself as a world leader in cannabis genomics which appears to be a credible statement, and has one of the largest cannabis genetic databases in the world (including proprietary genomic and chemical data) on 1,000 cannabis lines representing more than 17.5 billion data points, genotypes, phenotypes, chemotypes and pre-clinical data, to develop novel cannabis hybrids to address specific medical cannabis market demands, and "breed genetically stable varieties for better therapeutic effects and higher yield." The varieties being bred are non-GMO, produced using sophisticated advanced breeding techniques.
Canonic also has Israel's largest fully licensed Cannabis R&D facility with a state-of-the-art 22,000 square foot greenhouse, tissue culture and molecular labs.
Starting with plant genetics, Canonic uses its proprietary GeneRator AI and CPB technology to develop Cannabis plant varieties that address the medical cannabis market's three biggest challenges, 1. "genetic stability; 2. compound yield, and 3. active compounds". Canonic's computational capabilities and AI-driven engines allow it to do so far more efficiently, faster and more accurately than the competition.
Canonic's two medical cannabis product families are:
1. MetaYield – cannabis plants and seeds bred to stabilize and increase total active compounds per plant, specific traits to increase compounds per planted area (e.g. dwarf plants, plants that flower earlier and which can increase the number of crops planted per year), and specifically address consumer preferences as to texture, colour, taste and specific percentages of compounds such as THC or CBD;
2. Precise – developing stable, specific hybrid cannabis plants with certain concentrations of specific compounds that address specific medical needs (e.g. pain or inflammation) based upon scientific data, including pre-clinical and clinical medical studies conducted in conjunction with certain medical institutions including Hadassah Medical Center in Israel, one of the world's leading medical cannabis research centers.
G150 and G200 MetaYield Commercial Launch October 2021:
On October 19, 2021, Canonic announced that it had launched its first MetaYield medical cannabis products in Israel, namely G150 (18% THC, CBD >0.1%) and G200 (21% THC and CBC >0.1%), as part of Canonic's G-nnovation under Canonic's MetaYield product program.
The commercial launch began earlier than the anticipated 2022 launch schedule.
… Canonic's G200 product will be available under the T20/C4 category[1] and G150 will be available under the T15/C3 category[2], according to the product categories established by the Israeli Ministry of Health. These products are based on cannabis varieties that were selected and developed using Evogene's computational platform to express high levels of THC[3] and premium consumer traits[4]. …"
In Israel, the T15 category is defined by government regulation as having THC from 12% to 18% while the T20 category is a THC percentage from 18% to 24%.
So far, sales of G150 and G200 (according to CEO Arnon Heyman in our January 24th discussion) are doing very well for an initial launch, although we probably should not expect substantial revenues during its 2022 initial launch year. Dr. Heyman indicated that G150 and G200 are already selling in 87 out of the 180 pharmacies in Israel licensed to sell medical cannabis, which includes Israel's largest pharmaceutical chains. According to Dr. Heyman, patient feedback to date exceeded his expectations.
Israel does not permit commercial advertising of medical cannabis (so there are no TV or radio ads etc. promoting Canonic's products), so the adoption of G150 and G200 is a result of word-of-mouth patient recommendations, including social media recommendations, as well as presentations to pharmacists and pharmacist recommendations.
Recent preclinical data showing a 40% to 50% Reduction in Pain and Inflammation:
Recent preclinical data discussed in more detail below indicates that G150 is one of a few unique cannabis hybrids shown to significantly reduce both pain and inflammation. As a result, Canonic is now using that pre-clinical data as part of its marketing presentations to pharmacists to promote G150.
A copy of Canonic's English version marketing material for G150 given to Israeli pharmacists is seen below with the bottom portion showing two charts reflecting the pre-clinical evidence in two separate studies showing an approximate 40% to 50% reduction in pain and inflammation.
New MetaYield Products Being Developed – 20% Increase in THC Content/6 fold increase in cannabis lines with >20% THC
While G150 and G200 appear to be meeting with early commercial success, Canonic is using its proprietary computational systems and proprietary database to continue to develop new hybrids of cannabis plants targeting a 20% increase in THC (meeting consumer preference). In fact, within a remarkable short 12 months, Canonic has reached a 6-fold increase in the number of new hybrid cannabis lines with greater than 20% THC content. See slide below.
Global Cannabis Market
According to market research quoted by Canonic, the legal (mostly medical) worldwide cannabis market is growing and is expected to be $46.8 billion in 2025 (from an estimated $26 billion in 2021).
Medical Cannabis: As described in my earlier article and for the purpose of this article, medical cannabis is plant-based or plant-derived cannabis products prescribed by a medical practitioner for the treatment of a specific medical condition such as epilepsy, pain, anxiety, insomnia, PTSD, inflammation, multiple sclerosis, etc., but where the cannabis product has not gone through the formal clinical trials and regulatory approval process to obtain marketing approval from the FDA or similar regulatory agency.
While THC and CBD are the two most common cannabinoids, there are at least 144 cannabinoids that have been isolated from Cannabis plants exhibiting varied potential therapeutic effects that are still unknown or fully studied. Tetrahydrocannabinol (also known as "THC") is the primary psychoactive component of the Cannabis plant which provides the "high". Cannabidiol (also known as "CBD") is non-psychotropic and often used for seizure disorders such as epilepsy, but also used for anxiety, pain, a muscle disorder called dystonia, Parkinson's disease, Crohn's disease, and many other conditions, although there isn't necessarily thorough scientific evidence supported by a full set of clinical trials to support these uses.
The medical cannabis market around the world is growing rapidly due to an increasing number of clinical trials involving different types of cannabis products and regulatory acceptance of cannabis products, particularly for medical-related products.
In addition to the Israel market, Canonic plans to commercially launch its MetaYield and Precise medical cannabis in Europe in 2023, followed by entry into the multi-billion dollar U.S. market in 2024.
Canonic's Medical Cannabis European Launch in 2023:
On January 31, 2022, Canonic announced that it obtained an export license from the Israeli government and has shipped its,
…first batch of its unique cannabis varieties to Portugal, following receiving approval to export from the Israeli Ministry of Health and Ministry of Agriculture.

As part of its preparations for the planned 2023 commercial launch in Europe, Canonic expects to enter commercial agreements with local growers and manufactures and will work to obtain required regulatory approvals. To this end, the varieties shipped are intended to be grown in semi-commercial scale for lab testing and regulatory examinations, as required by European regulation. …"
Canonic's Precise Product Family (Medical Indication focus) Initial focus on Inflammation & Pain
On January 18, 2022, Canonic announced positive pre-clinical results in studies in inflammatory and pain model systems conducted by Hadassah Medical Center in Jerusalem and by MIGAL – Galilee Research Institute in Kiryat Shmona, Israel.
The pre-clinical results support the identification of specific cannabis varieties with heightened anti-inflammatory and pain relief properties for Canonic's medical cannabis Precise product line and have led to a patent application filing.
Dr. Heyman will be discussing the pre-clinical results as part of a presentation that he will be making at the upcoming CannX Tel Aviv medical cannabis conference scheduled for March 15 at 11.00 a.m., "Cannabis Genetics: From Seed to Product". Dr. Heyman is planning to present Canonic's data at another medical cannabis conference in Frankfurt, Germany in mid-2022.
Canonic is planning to gather clinical data to test one or more of these new hybrid varieties in 2022 which will support marketing, obtain patient feedback and facilitate physician and pharmacist training, rather than being of a type to obtain FDA approval. The details of the clinical test design have not yet been disclosed but will likely enroll approximately 100 to 200 patients.
During my recent calls with Canonic's CEO, Dr. Heyman briefly explained that with respect to the pre-clinical trial testing, Canonic screened a few hundred cannabis lines from its diverse genetic collection for anti-inflammatory and pain relief properties. These lines were selected according to active compound compositions using Evogene's GeneRator AI tech engine utilizing AI and machine learning.
The screening of these selected lines testing both for pain and inflammation reduction was conducted in two separate models – in an in-vitro model at the laboratory of Prof. Reuven Or at the Hadassah Medical Center and in an in-vivo (zebrafish larvae) model at Migal – Galilee Research Institute.
According to a September 9, 2020 article, written by Abigail Klein Leichman, Camanex discovered that they could use zebrafish "for a rapid and accurate identification system to determine the therapeutic potential of cannabis strains for sleep problems, seizures, Parkinson's disease and pain". Additional indications to be studied include autism and anxiety. MIGAL-Galilee Research Institute published a short article on the same topic on September 9, 2020 with the title, "Unusual research approach speeds up discovery of which cannabis plants work best for which medical indications".
In its preclinical studies, Canonic found wide variability among cannabis plants in their chemical compositions, genetic profile and their respective effectiveness in treating pain and inflammation. In narrowing down those plants with the greatest medical effectiveness in pain and inflammation, Canonic found that one of those cannabis varieties included Canonic's medical cannabis variety G150 which exhibited consistent positive results in reducing pain and inflammation in both model systems, over several repetitions and independent cultivation cycles.
Based on these results, Canonic has filed a patent application for several of these medical cannabis varieties and their medical effects.
Canonic plans to commercially launch its initial Precise hybrid varieties (both in oil and inflorescent format) in 2023 in both Israel and in Europe.
In addition to its initial launch of 2 Precise products in pain and inflammation, Canonic is developing its 3rd medical cannabis variety (in both oil and inflorescent) in collaboration with one of Israel's leading medical cannabis companies Tikun Olam-Cannbit (OTC:TFSHF) which also has extensive partnerships with U.S. based medical cannabis companies. The medical target for Precise product #3 is still undisclosed.
Canonic's Next Generation Precise Products
Analyst Coverage on Evogene
There are three analysts covering Evogene.
ROTH Capital Partners (Brian Wright)- February 1, 2022 – $9.00 price target;
Cantor Fitzgerald (Kristen Kluska) – January 27, 2022 – $15.00 price target; and
Aegis Capital Corp. (Nathan Weinstein) – December 2, 2021 – $10.00 price target.
Will Evogene Cause Canonic to IPO later in 2022 or 2023?
Evogene has publicly stated that one of the ways it plans to help unlock shareholder value is by spinning out one or more subsidiaries by way of an IPO or an M&A transaction in the relatively near future, assuming market conditions warrant. Unfortunately, the biotech market is currently in a bear market, so I assume that an IPO in a subsidiary such as Canonic will not happen in the next number of months.
Canonic has a reasonably high likelihood (my speculation) of doing an IPO by the end of 2022 or H1 2023. It has commercially launched its first MetaYield products in Israel in October 2021 with plans already in place to launch in Europe in 2023, and the U.S. in 2024. It is well on its way to launching one or more of its first Precise products for pain and inflammation later this year, presumably after some initial clinical trial results. The second half of 2022 may be an opportune time for Canonic to raise funds through an IPO or by entering into some other strategic M&A transaction that would not only fund its operations but also put a pin in its valuation.
For what it's worth, ROTH Capital Partners (Brian Wright) in its February 1, 2022 report has a $2.00 per share valuation target (approximately $80 million) attributable to Canonic (out of its total $9.00 share price target for Evogene), analyzing Evogene on a sum of subsidiary parts. While I am not an expert in business valuation, ROTH's attribution of $2.00 of Evogene's share value to Canonic (as part of ROTH's $9.00 sum of parts valuation) seems reasonable to me given Canonic's technology, pipeline, initial commercial launch of G150 and G200, Precise pre-clinical data, and its anticipated upcoming 2023 European launch.
Evogene Investment Thesis and Canonic's Role
With a market cap of approximately $50 million (including cash of approximately $60 million and no debt as of September 30, 2021), on a sum of parts basis, I believe that Evogene is undervalued. The 3 analysts covering Evogene have price targets of $9.00, $10.00 and $15.00 respectively.
Canonic, which is but one of Evogene's 4 main subsidiaries, I believe is alone likely worth more than the total current $48 million market cap of Evogene (which had approximately $60 million in cash as of September 30, 2021).
Canonic has demonstrated that it can create world-class medical cannabis products with selected consumer preferences and medical traits, utilizing computational biology and sophisticated genomics. It has already launched 2 MetaYield cannabis products in Israel (in less than 2 years of development) and is expanding sales and marketing of those MetaYield products into both Europe and the U.S. It is conducting pre-clinical (and should soon be testing in human clinical trials) in selected cannabis hybrids that have been shown preclinically to possess the genetic and chemical characteristics best suited for targeted medical treatments.
Canonic will also use the results of its pre-clinical and clinical testing to market its medical cannabis products, help respond to consumer/patient preferences and to educate physicians and pharmacists. This is a novel approach in the medical cannabis space.
Canonic has Israel's largest Cannabis R&D facility, is fully licensed, owns a state of the art 22,000 square foot greenhouse and molecular labs. It is progressing preclinically (and soon clinically) with its Precise program focused on the treatment of pain and inflammation. It has also begun shipping seedling plants to Portugal in anticipation of a European launch in 2023. A U.S. launch is expected in 2024.
Canonic is proving that its AI-driven computational, genetic and clinical evidence approach to developing medical cannabis products is capable of creating best-in-class products and meeting a growing rapidly growing medical cannabis demand. Yet, the market is attributing no value to Canonic in valuing Evogene, which is trading at a market cap less than cash.
Canonic has a reasonable likelihood of doing an IPO later this year or in H1 2023 which would help unlock both Canonic's and Evogene's shareholder value.
Evogene plans to release its Q4 and full-year 2021 results (and hopefully provide a corporate update) on March 10, 2022, at 9 a.m. EST.
Investment Risks
Notwithstanding the potential significant upside, Canonic is still a relatively early stage company having just commercially launched its first products, G150 and G200 in Israel.
The parent company, Evogene, also remains a relatively early stage ag-tech/ biotech company with no material current or predictable future revenues and is suitable for investors with a high-risk tolerance. An investment in Evogene could result in the loss of some or all of your investment.
Before making an investment in Evogene, you should do your own due diligence and obtain professional advice to determine whether it is an appropriate investment for you and the sizing of such an investment.
Investment risks include, but are not limited to, the possibility of developmental trial failures, commercial launch risks, underwhelming clinical or other test results, competition, IP infringements, patent challenges, regulatory issues, loss of key personnel, share dilution, difficulty in raising new funds either at the parent or subsidiary level in the future, the failure of management to execute upon its business plan including marketing, difficulty in acquiring partners or entering into licensing deals and general market risks.
Evogene's business model is frequently dependent on collaborating or partnering its assets at various stages of development. There is a risk that those collaborations or partnerships may not materialize or may not be as lucrative or as timely as hoped for or anticipated.
For further details of the potential risks involved, see the risk factors set out in the company's most recent public SEC filings.
Source link